Our trip to the southwest was so exciting and fun-filled that it will take three posts to cover it all. So, if you start here and continue reading through the next three posts you should end up with a fairly clear picture of what took place.
Our first stop was Albuquerque for the National Association of Interpretation's conference. However, since Sonja wasn't particularly interested in attending sessions discussing a survey of the future of interpretive coursework in academia, she decided to go hiking. A wise choice, I think. Although, truth be told, I did rather enjoy the aforementioned session. Anyway, Sonja spent Wednesday exploring Petroglyph National Monument.
In addition to petroglyphs left by generations of people over thousands of years, Sonja also saw some more...recent...additions to the area. The photo below was not taken in Petroglyph National Monument, however. Where else but Albuquerque could you hike to the top of a volcano and see a 20-foot plywood cut-out of Jesus with a red mohawk and carrying a giant penny?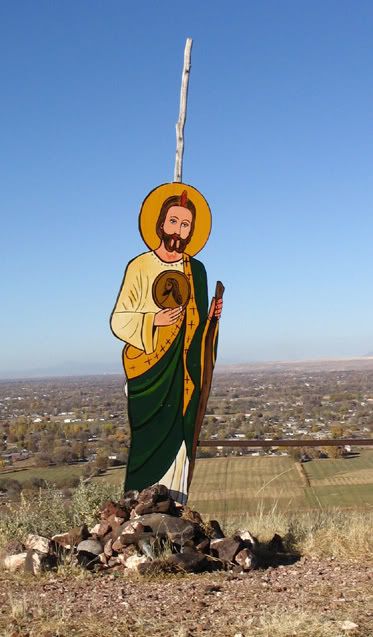 Next on our agenda was to enjoy as many meals at the world's most best restaurant ever, otherwise known as Los Cuates. We even dragged a bunch of interp-type people along to watch us gorge ourselves on chili rellenos and sopaipillas. Next to Sonja's smiling (?) face is Kristy, a friend from Kenai Fjords National Park who also attended the conference.


Then we have, from left to right, Holly from Bandalier National Monument, Andy from Organpipe Cactus National Monument, Sonya from Gila Cliff Dwellings National Monument, Meghan and Lori from the Grand Canyon, and the shiny half of Nate's head from Sheridan, Wyoming. Altogether a rather happy group of parkies.


And, the sopaipillas! You know you're in New Mexico when you sit down at a table and see a bottle of honey waiting for you in anticipation of the sopas you know will be coming.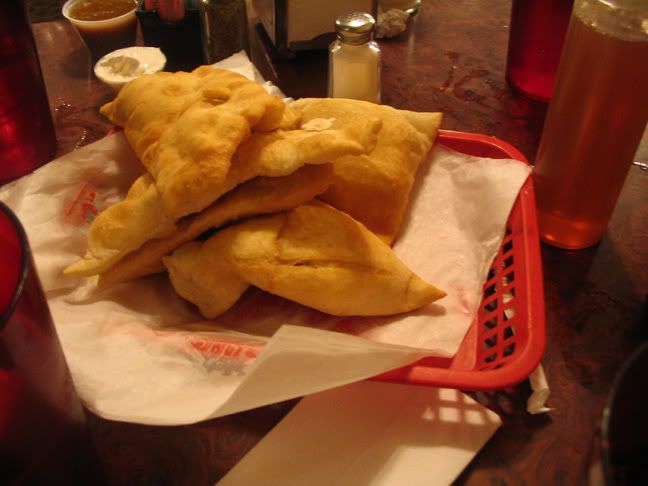 Mmmmmmmmmm.... nothing like dough made with lard and deep fried then smothered with honey to end your day!
Below you will see all seven of us Freeman Tilden Award nominees. I'm in there somewhere, too, along with Corky Mayo, Chief of Interp for the National Park Service, and Laura from the National Parks Conservation Association. They lined us all up there prior to announcing the national recipient so those of us who didn't win wouldn't feel like complete losers.


That's right, I didn't win. The actual winner is the first guy on the left. He's from Wyoming. Although I was disappointed, I must admit that the consolation prize was pretty darn cool, too. Doesn't everyone always dream of owning not one, but two ballpoint pens with a wrinkley bust of Freeman Tilden on the top? I know I sure did!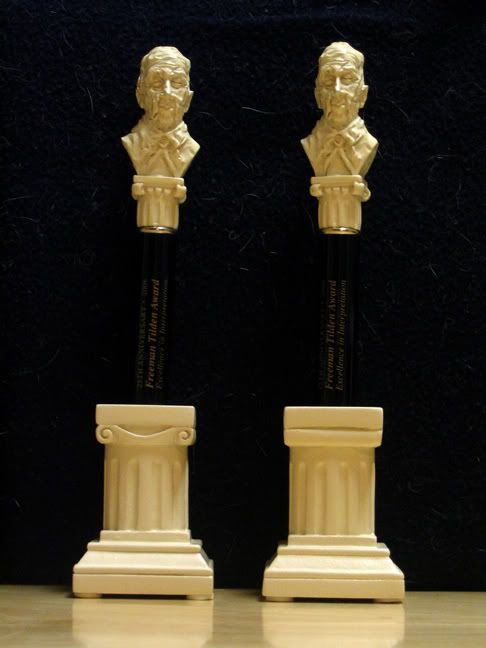 Actually, I didn't get two of them. One is Sonja's. And I suppose it doesn't really count as a consolation prize since they gave one to every person who attended the award ceremony. But it's still cool, though.


And finally, to finish out the New Mexico/Arizona section of our journey is a picture of Meteor Crater in Arizona from 29,000 feet. Just cuz it's neat and cuz it looks like a big zit that just got popped.
Or not.