Autumn in Denali National Park is something everyone should experience. It's by far the best time of year to visit. No bugs. Clear days. Fewer people. The wildlife is everywhere. Sonja and I decided to camp out in our favorite national park one last time before we leave Alaska, and lucked out with some amazing weather while we were there.
The fall colors were probably just past their peak, but it was still beautiful. The dwarf birch, willow and blueberry bushes were just bursting with oranges and reds.
We got on the bus Monday morning after a hard frost the night before. It was a little chilly in the tent, but the crisp, clear air made for perfect wildlife and scenery viewing. It also provided a great shot of some early morning moose breath.
The caribou weren't as abundant as we've seen in the past, but they were there. Including this cool bull with his full rack hanging out just off the road.
We also got a chance to watch the aftermath of a wolf-kill. While we were waiting at one of the rest areas we got word from a ranger that the Toklat pack had just taken down a dall sheep within 100 feet of the highway four miles down the road. Although we missed the high drama, we did get a good look at a couple wolves catching their breath in the afternoon sun. Unfortunately, the carcass was behind some bushes, otherwise I'd have gotten some nice gory sheep gut pictures. Oh well...


Speaking of sheep carcasses, we also saw some non-dead versions running around on the mountains. I almost called them "undead" sheep, but changed it at the last minute to avoid any confusion. Come to think, though, it would have been neat to see some zombie sheep while we were there. Zombie sheep are way cool (the image below is actually a movie, so be sure to click on it).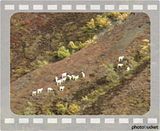 It was just a great trip. It was almost like the mountain came out to say "see ya." We even took a quick trip up to Fairbanks to see some old friends and check out some of our favorite haunts. It was nice to be back there, even if it was just for an afternoon.
And I've got to hand it to the
old guy
and his accomplisseses for one-upping me on the mentos challenge. Although, I think using an alternative carbonated beverage may actually disqualify his entry. I did explicitly state that one needed to use Diet Pepsi, and not Diet Coke, to compete. But I guess I could overlook that little technicality due to the onset of senility.